Progression and talent development
Progression and talent development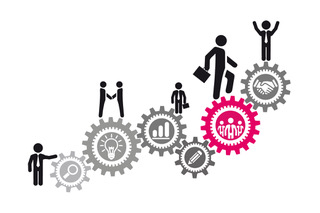 Your needs
Would you like to offer prospects to the talented staff in your company?
Do you think that your skill and/or talent development policy needs to be revised?
Would you like to create connections between jobs? Promote interdisciplinary developments? Anticipate skills needed in the future
Does your innovative approach require organised and effective skill management?
Our service
We:
offer you support while you set up a process to manage skills that are simple, effective and adapted to your situation.
help to build a path facilitating the development of your employees, all while responding to your company's medium and long-term needs with regard to skills.
pass on our expertise in building frames of reference for skills, organising these and, if necessary, identifying links within your business.
If needed, we can work with you to develop the necessary specifications and models for creating your in-house tools. We will help you draft communications for such an approach, by developing internal training modules and, if necessary, offering training to your in-house trainers.
Reviews
"By working with Seed, we were able to benefit from their expertise in terms of skills and establish internal processes adapted to our culture." HR director, French branch, international group
"We have succeeded in establishing a 'talent-pooling' system that is simple, operational and satisfactory for the company and its employees." Head of skill projects, research sector
"Seed has a large array of skills and has saved us a lot of time when developing our evaluation tools." HR director, middle market company in the equipment sector The French branch of a globally recognised company in the leisure industry wanted to create a site enabling all employees to identify the paths open to them to achieve their goals in the company, in line with their professional skills.
The French human resources team was made up of a project team and each human resources director led the process with the managers under their supervision.
After listing all the existing positions in the company, we worked together to establish frames of reference for each of them. We then outlined the rules enabling an employee to transfer from one position to another. The aim was to guarantee equality by applying rules that were simple, transparent and applicable to all posts within the company.
The established system had to allow every person consulting the site to identify all the avenues open to them from their current post within the company, potential posts, steps to be taken to get there, etc. A list of key skills for each position had to be available for consultation so that company employees could understand what was expected and then discuss it with their manager and HR director.
We helped the company draft the specifications that were then sent to developers.
The launch of the site made it possible for employees to more easily evaluate and discover the possibilities which were open to them professionally.
Support
& coaching

Assessment

Internal policies